On the occasion of the 30th Anniversary of the Canadian-Georgian Diplomatic Relations, and to celebrate the Canadian-Georgian exchange in business & beyond,  CGCC – Canadian-Georgian Chamber of Commerce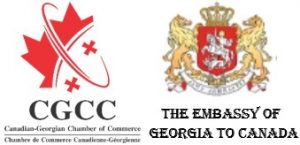 and the Embassy of Georgia to Canada are organizing the Canadian-Georgian Business Gala in Toronto. The event is made possible with the generous support of our Platinum sponsor – PCMnow.com of Oakville, Ontario, and our Gold sponsor – Georgian House of North York, Ontario.
Join us at the Seasons Restaurant in Oakville and enjoy a great dinner with the select Georgian wines in great company. The program will also include several informative presentations, live entertainment (Georgian dances and songs) and a raffle.

You do not want to miss this event if you are a
>Friend of Georgia interested in seeing Canadian-Georgian two-way exchange flourish in business and beyond
>Fan of Georgian culture, folk dances & songs, food and wine.
>Member of the Georgian diaspora in Canada, especially if you are interested in business and entrepreneurship
>Representative of a local or bilateral Chamber of Commerce or Board of Trade interested in connecting with the Canadian Georgian Chamber of Commerce and its membership
>Member of a business community doing business with Georgia or interested in the Canadian-Georgian business opportunities
Everyone is cordially invited to the event. The dress code is semi-formal, and seats are limited – Eventbrite registration is required, first-come, first-serve. During the registration at https://canadian-georgian-business-gala.eventbrite.com , you can make an optional donation to support our non-profit organization and its mission. If you do not wish to make a donation, please, choose "Free Ticket" option – "Guests are gifts from God," as they say in Georgia.