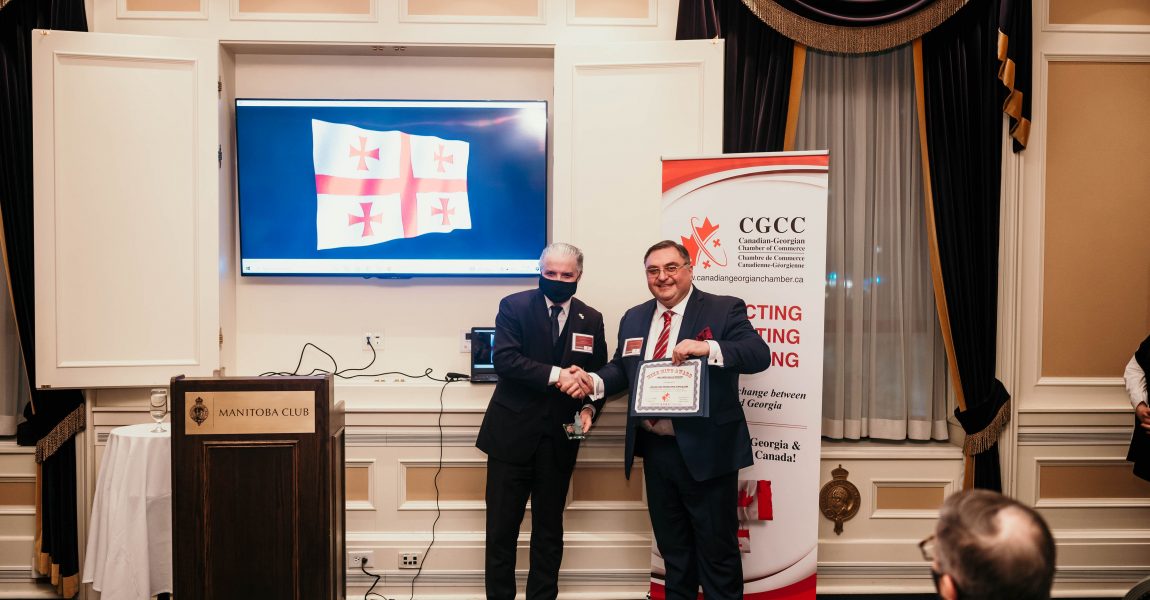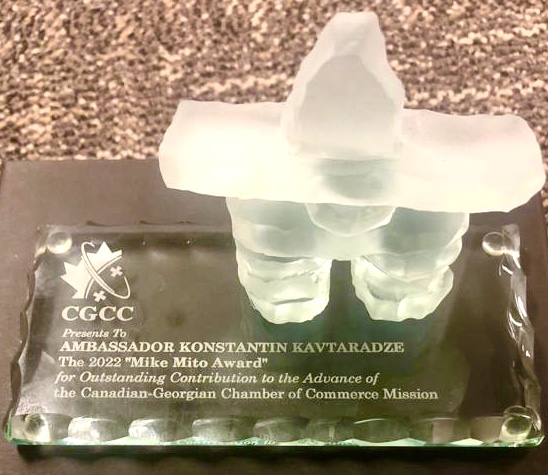 WINNIPEG, MB. January 21, 2022 – Dr. David Iremadze, President and CEO of the Canadian-Georgian Chamber of Commerce (CGCC), presented the Ambassador Plenipotentiary and Extraordinary of Georgia to Canada, His Excellency Konstantin Kavtaradze, with the 2022 Mike Mito Award for Outstanding Contribution to the Advance of the CGCC mission during the CGCC inauguration event. "The Canadian-Georgian Chamber of Commerce (CGCC) mission is to connect, support, and advocate for development and expansion of two-way Canadian-Georgian exchange in business and beyond," noted Dr. Iremadze in his speech during the award ceremony. "We are privileged to have Ambassador Kavtaradze as the first recipient of the Mike Mito Award. He has nurtured the idea of CGCC and has provided significant support to us during our first steps as a newly established organization."
Ambassador Kavtaradze is one of Georgia's most seasoned diplomats and, for the past 32 years, has been in the diplomatic service of his country. His vision of "More Canada in Georgia and More Georgia in Canada" has inspired the establishment of CGSS, prompting many Canadian entrepreneurial leaders to take notice of exciting and mutually beneficial opportunities for Georgia-Canada cooperation in business and other areas. In his capacity as Ambassador Plenipotentiary and Extraordinary of Georgia to Canada over the past five years, Ambassador Kavtaradze has significantly raised the profile of Canadian-Georgian relations painstakingly engineering significant progress towards deeper political, cultural, and economic ties between the two countries. Some of the notable recent achievements attributed to ambassador Kavtaradze's efforts include:
Start of the Canadian-Georgian negotiations on the Foreign Investment Protection Agreement, currently in the advanced stages of development.
Establishment of the Canada-Georgia standing consultations in an annual, "extended dialogue" format.
Organizing and facilitating numerous special events to introduce Georgia to the communities across Canada, and trade mission visits to Georgia by Canadian businesses.
Providing material support to the one of its kind, Canadian-Georgian shared heritage – the "Abkhazi Botanical Garden" in Victoria, BC.
Co-initiating and co-sponsoring the construction of the Freedom Memorial in the centre of Ottawa dedicated to the victims of oppressive regimes.
Dedicating several memorials across BC to the memory of young Georgian Olympian Nodar Kumaritashvili – who suffered a fatal luge accident during a training run for the 2010 Winter Olympics competition in Whistler, British Columbia, Canada.
"I see the launch of the Canadian-Georgian Chamber of Commerce (CGCC) as a great contribution to the future Canadian-Georgian cooperation …and I am very grateful to you – Dr. Iremadze, for your invaluable personal contribution and effort to materialize it. Congratulations on the launching of the CGCC!" – Noted Ambassador Kavtaradze.
The CGCC has established an annual Mike Mito Award for Outstanding Contribution to the Advance of the CGCC Mission. The award comes with the lifetime honorary membership into CGCC. It is named after the Georgian immigrant and entrepreneur – Mr. Dimitry Metreveli, who came to Canada in 1913 at the age of 18 and became known as Mike Mito. Mike Mito was a successful entrepreneur establishing the town of Metreveli and a mining company in Quebec. The latter continues functioning to this day under the name of "Bordulac Mines" owned by one of the global business giants – "Globex Properties."